Wisconsin Tornadoes and Images from Research at ERSC
MODIS Imagery Shows the June 7, 2007 Northeast Wisconsin Long-Track Tornado (White Lake) Swath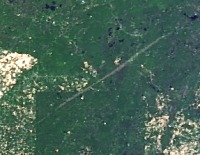 (
click
for GoogleMaps interface)
Clear skies on June 9th 2007 made it possible to see the destruction swath in imagery collected by the MODIS sensor on both the Terra (12:28pm) and Aqua (2:09pm) satellite overpasses.

The following August 18, 2005 Satellite images acquired by Landsat and ASTER instruments show large tornadoes and can be viewed with any internet browser.
WI Outbreak of August 18, 2005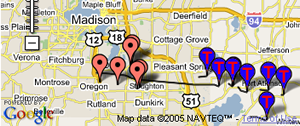 Interactive Google Map with tornado locations, video and photos from UW's Cooperative Inst. for Meteorological Satellite Studies. Also, their case study with weather animations.
News of the destruction wrought by a one-day record 28 tornadoes was reported around the world - more than 300 stories according to Google. Many of the those linked below include dramatic photos and video.
ERSC began researching the potential for detecting and mapping tornado tracks from space in 2001. This research included processing and delivering images to county and emergency management personnel who were responding to the 2001 Siren, WI Tornado.

Siren F3 June 18 2001 - compare Before and After with our Flash Visualization Tool.
For more background, see the Siren Tornado Case Study or the research paper:
Lillesand, T.M. et.al. Paper presented at ASPRS in Washington, DC 4/24/02: Assessing Tornado Damage via Analysis of Multi-temporal Landsat-7 ETM+ Data
Emergency Management & GIS Professionals
GeoTIFF of the MODIS image and a shapefile of the Northeast Wisconsin Long-Track swath are available in WTM projection through WisconsinView


Use our

WisconsinView Data Portal
to
map
the Stoughton, Spring Green, Viola & Siren Tornadoes

MODIS satellite images provide daily images of Wisconsin, though at a lower resolution than other earth observing instruments. From the first clear day after the 2005 outbreak, this processed satellite image shows the half-mile wide tornado track. The landscape change detection process that compares before and after views from our MODIS Image Server . A principal components analysis contrasted a scene from August 1 with one acquired August 21.

Map-image

tornado tracks by Fujita scale and damage report with

locations

from NWS Milwaukee/Sullivan

National Weather Service

map-image of

US Tornado Reports

from August 18, 2005 Spreadsheet data for reports includes locations, comments, latitude, longitude and time of occurence.
Real-time generated map-image of August 18 Outbreak

from NWS tornado watches, warnings, and touchdowns

(courtesy Russ Dengel at UW SSEC)

To request more information on incorporating satellite image data into GIS layers and maps, contact the

ERSC Tornado Response Team

.
Using GIS to map the tornado tracks requires specialized software.